Hey guys, just starting my build. and i've a few questions. Been following a lot over the past year but bear with me if I end up sound stupid.
So I'm 3D Printing the hydrofoil in PLA: [Kitesurf Hydrofoil Plans by berryd - Thingiverse]! - added a hole down the mast for cables
I've only one piece yet to print - using the heating method and sticking the parts together at the minute - Very Cheap Micromake C1 but I've it fine tuned now

Plan is to fibreglass the mast & fuselage together and then fibreglass the front and back wings separately so they can be swapped out for angle etc. I'll post a picture once I'm home - currently in UK for work.
I've also found a Old Windsurfing board - 3.3m long, 11cm thick and 65cm wide - pic below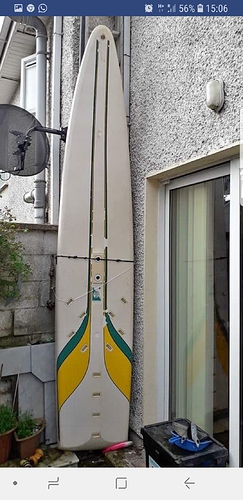 I weight 82-85kg depending on if I've had dinner or not that day!!! The foil (without the propulsion unit) is about 2kg. Now taking about 3kg for the propulsion and then the electronics and fibreglass I'd be estimating a total max weight of 95kg hopefully a bit less - I'd like 90-92kg if I could.
Could anyone tell me if this board is suitable for use and will it float with me and all the bits on it?
Could also do with a link to a diy vacuum boarding and a link ot ideal board shapes and sizes for the above weights as I'll be cutting the board down to size - its so large I may even get two 1.65mm Length boards from it - would be nice for my eventual mistakes!
All help greatly appreciated