Is there any news in that?
Their latest is just strapping a box to a Gong Hipe: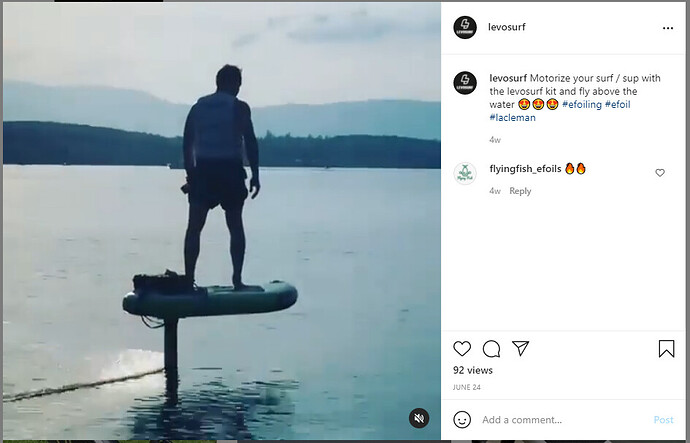 Its a pretty easy route for DIY if you don't mind the case on top of the board…
Hello builders !



Sorry for the delay, the covid event delayed our project,
We will provide a full kit board+propulsion system in late 2021
And in few days We will sell a secondary kit that can fit a regular foil board, (gong hipe prefered)
In both cases the full propulsion system is sold complete (motor mast propeller propeller guard and fuselage)
And the fuselage will be gong Wing compatible

Our system is so efficient that We Can foil with as low as 640w,
Cruise @23kmh with approx 1100w strap on gong hipe in a minute, fit in a bag transport and keep the board for wingfoiling the rest of the time
Ps: We have been testing our system for 3 years
We will make a first 10pcs batch so please DM me for orders
ok, good news.
about battery and esc it will be located as in previous pictures on the board upper back?
Looking good.
'https://www.instagram.com/levosurf/?hl=en
In addition to ESC and battery, could you tell us more about…
1- motor,
2- hydrofoil: is it custom or Gong too ?
3- remote control brand (custom, Maytech, Erayfoil, … )?
4- 640W under 48V is only 13 amps… that's far below the previous record 18A
5- price tag
Hi,
1- 65 inrunner with high high quality bearings and sealing, full aluminium mast connection, and plastic 2 blade propeller with high aspect ratio, We have been using 2 blades propeller for 2 years now and we love it for the efficiency.
2- Both, in a first time we will sell a propulsion unit that will accept gong wings and stabs,
later we will provide also a full kit for people who wants a complete set
3- Still comparing
4- We will try to provide you vesc record so you can appreciate speed vs consumtion more precisely.
After making 4 prototypes with box in the back, in the front, full rigid compartment etc… We choose to put the box on the top of the board, it is better for water ingress (as the box doesn't touch the water), and cost saving The board is easier to build.
Our product best usage is cruising from 18kmh to 35kmh, we want our product to be fun, affordable and safe.
We use modified MC4 solar connectors with XT90 connectors, affordable easy to replace, reliable.
5- Approx 990€ vat ex. for the complete propulsion unit without wings.
Regards

Ok, tks.
So if i have understand well in the kit we have :
motor : included
propeller : included
cables : included
ESC : included
Mast & Wings : not included
Battery & battery case IP67/68 : not included
Remote : not included
When will the kit be sold and delivered?
What size of Gong Hipe do you recommend?
When is the website online?
Best
Christof
When will there be new information?
Hi Everyone,
our parts are in CNC production


We will update you very soon

Not at the moment. Still on hold
Hello builders !
sorry for the delay, our parts have been machined and anodized, we are waiting for delivery and assembly tests

Will it be out this year?
Any news on this? Do you have inflatable boards with holes to spare? Thank you!
Hello Everyone,
good news after extensive testing our first batch of 10pcs propulsion unit will be ready this September,
the unit includes :
-80cm aluminium mast, really stiff
-Foil plate
-Aluminium motor mount (really strong)
-65 Inrunner motor 100kv
-fuselage with gong wings compatibity
-Motor end cone (carbon PETG)
i will add pictures to this post.
The price is 990€ vat Excluded for forum members, normal price will be around 1100€ vat . ex.
Is it a Gong V2 mast and plate then ?
Any pics of the efficient 2 blade high aspect propellor? I would be interested if you can sell it separately.