Hi everyone,
we developed completely new jet pump that is capable of producing large thrust with high efficiency.
If you are interested in Electric Jetsufs you should read this article!
JetX-100v2 propulsion unit took a big step forward from his ancestor which has already proven itself to many our customers around the world. It has 20mm larger impeller that highly improves thrust. With efficiency of 79,74% it really is state of the art jet pump. It produces 8,5kg (83Newtons) of static thrust per 1kw of power, tested with 110kv outrunner brushless motor. With this efficiency rate 525L of water is pumped every minute using only 1kw of power.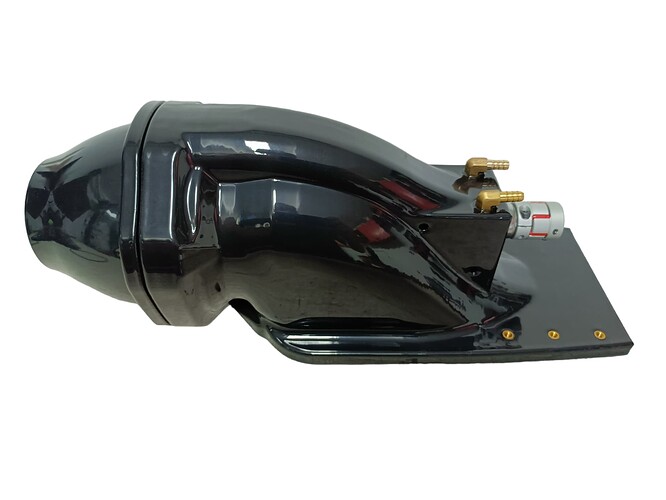 features new and strong design with two stage open loop water cooling system . First stage cools down the ceramic bearing and the shaft, and the second stage is used to cool down your electric or gasoline engine and your electronics. If you don't need second stage you simply bypass it from brass outlet to brass inlet with a short tube. Brass pipes are placed on the top of bearing housing for easier access… First stage is always in operational mode and takes care of the constant cooling of the bearing. With this cooling technique there is no need for external tube in the nozzle which then needs to be conducted inside the vessel. There is no pressure loss with this cooling system since both cooling circles has outlet directly in suction system.
IMPROVEMENTS
New impeller design allows better water suction then previous version. Because of carefull blade design and better hidrodinamics is significantly less subject to cavitation under higher rpm. Carbon Fiber impeller is standard and it can withstand high loads when accelerating with your vessel.
New high efficient nozzle with 8 pole stator and ceramic bearing inside . Stator vanes were carefully designed after numerous testings in our dyno test pool. Vane shape allows best possible water flow conversion from vortex to straight jet, while maintaining high efficiency of 79.74%.
New intake shield made from high strength marine grade stainless steel 316L that can withstand salt water enviroment. With new JetX-100V2 intake shield is integrated in jet pump itself and comes as standard on every pump unit. It prevents getting grass, rocks, dirt, fish etc… Steel parts are precision laser cut to ensure perfect fit. Carbon fiber part directs the water directly to the impeller, that improves water inlet and consequently the vessel's grip on the water when moving.
You can check test video here:
JetX-100V2 dyno test- https://youtube.com/shorts/FIrxqD0FED8?feature=share
If you are interested in this pump visit our website and get more details with pictures: JetX-100v2 Propulsion Unit - MA-3D