I have started a while ago a Blog / Topic in our Pacific North West Windtalk Forum for Windsurfers and Windfoilers frustrated with not enough wind around Seattle Metropolitan Area under title:
"How to quickly convert your Windsurf Foil Board into Electric Foil Board for around $1500 - DIY - Methodology behind"
https://groups.io/g/nw-windtalk/topic/32817001
All the details: "The Journey", "Progress" & applied "Learning" is documented there.
Here I am only posting some highlights only.
Basic concept is based on adding quick "bolt on" or "snap on" attachments to my both Slingshot Flyer 280 Windfoil Board & to Exocet RF91 Windfoil Board to add 24V 160LB Trolling motors.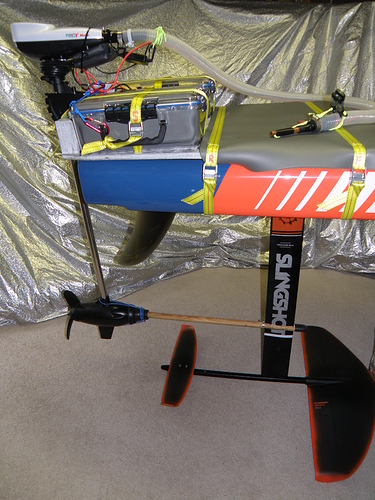 Testing so far is with POER 1500W and Caroute N300 2100W Trolling Motors
I am using also two separate sets (each set 2*12V) of Lithium Batteries at 60AH & 150AH.
One set I waterproofed myself adapting Plano Boxes, The second came with waterproof cases.
I have recently added some more innovative solution how to lower the foiling speed taking advantage of more thrust and lower speeds from Trolling Motors.
More details in another Blog / Topic:
"WWII Sinking the battleship Bismarck - Inspired by British Torpedo Bombers - What does it have to do with Slingshot Hydrofoil ?"
https://groups.io/g/nw-windtalk/topic/wwii_sinking_the_battleship/34412719
I am currently in the process of getting an issue fixed with Caroute N300 Motor where it seem to be running in protection mode whenever I put it in the water meaning only few percent of power is being applied.
I have already experimented with variety propellers with different pitch & sizes from variety of Brands: original POER & Caroute, Watersnake, Torqeedo (several versions).
I am getting very close to the foiling speeds but I am not there yet.
Need more powerful Caroute 2100W Trolling Motor to be fixed & another Torqeedo Propeller to arrive.
Testing on the water is done on Lake Washington Seattle at OO Denny Park:
With the buoy and anchor at chest deep it is much easier to change for example motor and propeller instead of taking entire board out of the water.
I am getting close to 6.0 mph speeds, need to get to somewhere close to 7-8 mph to get my "bi-plane foil mod" to take effect.
It has been proven by a Friend of mine also using Slingshot Flyer 280 and Infiniti 84 single wing that you need about 9 mph speed to get to foiling which the following video is a proof of:
I will provide major updates here while the detailed updates are being done on NW Windtalk Forum:
https://groups.io/g/nw-windtalk/topic/32817001