UPDATE: We have soled the setup as a whole to a German Foiler

We wish him much fun with the parts. We decided to keep this thread alive, in case that someone needs a parts list and links to the shops.
Cheers.
---
Dear Community,
2 friends and me had the dream to build our own Efoil. Unfornuately live plays sometimes different. One got a newborn and the other had to move away. After a long time of research and planning we were forced to give up even before we had started. For that reason we are selling our parts which we had bought, waited sometimes for weeks and still sealed …

In the picture you will find every single part which is needed to build an Efoil except the board!
We can send you close ups of parts if you wish!
We have some really good quality parts like Amphenol Connectors and original Samsung Lithium batteries. And of course we include the invoices.
Please contact me per WhatsApp (004916099452103) or in the forum if you are interested in the parts. We are from Germany in case if you want too pick up some stuff. We hope for fair offers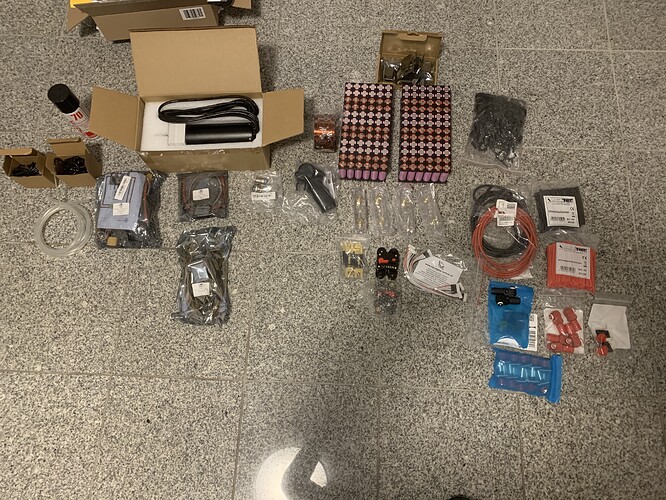 Connectors
Batteries (battery holders included)
Motor
VESC
Anti-Spark Switch
TFT Display
Remote (not watertight)
Stuff
2x Waterproof Fuse 120 AMP: 21,20 €
2.5m Black and Red 8AWG Cable w. smooth Silicon (very good quality): price was 23,99 €
100x 18650 battery holders: price was 9,99 €
4x Balancer cables: price was 6,29 €
1x protection paint: price was 12,50 €
1x Kaptontape: price was 7,81 €
5x Volt alarm: price was 12,99 €
2x IP67 Switch Blue and Yellow: price was 8,28 €
4x 120 AMP Fuses + Holders :: price was17,36 €
1x tinned Fusewire 0,25 mm: 17,68 €
1x tinned Fusewire 0,6 mm: 5,64 €
2x Waterpumps for VESC: 18,99 €