I have a 75V 250A Trampa VESC for sale… The best VESC Motor Controller you can get for your efoil project.
EU regular shipping price is about 480€. Would sell it for 430€
Already has Bluetooth and antispark switch integrated;-)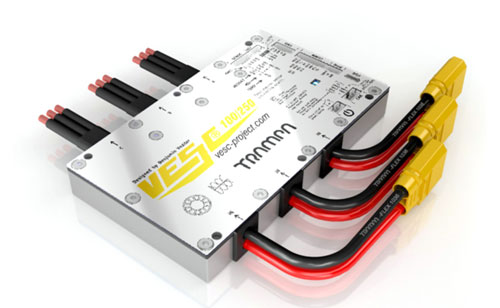 description:
The performance of the VESC 100/250, compared to preceding VESC models, is light years ahead! This is demonstrated in the cost, as cheap non effective copies are sold according to their price not their quality. If you want the best performance then stick to the original hardware source - it will save you a lot of money on the long run.
Rating
· Voltage: 14V – 100V (Safe for 4S to 22S LiIon).
Voltage spikes may not exceed 100V!
· Current: Continuous 200-250A, Burst 400A. Values depend on the mounting, ambient temperature and air/water circulation around the device!
· 5V and 12V 1A output for external electronics
· 3.3V 0,5A output for external electronics
· Modes: DC, BLDC, FOC (sinusoidal)
· Supported sensors: ABI, HALL, AS5047
· up to 150K ERPM drivable
Features
· Accurate current and voltage measurement on all motor phases (3x shunts)
· Regenerative braking
· Sensored or sensorless operation + hybrid mode
· Configurable RPM-, current-, voltage- and power limits
· Input source: PPM, Analog, NRF Nyko Kama Nunchuck
· Communication ports: USB, CAN, UART
· Throttle curve and ramping for all input sources
· Seamless 4-quadrant operation
· Motor revolution, amp hour, watt hour counting
· Real time data analysis and read out via communication ports
· Adjustable protection against:
Low input voltage
High input voltage
High motor current
High input current
High regenerative braking current (separate limits for the motor and the input)
High RPM (separate limits for each direction).
Over tempertaure (MOSFET and motor)