We are proud to announce a new product that will suite the eFoil DIY builders very well.
The VESC 6 has been used for some eFoil builds already but our customers demanded more peak power to get the board out of the water quicker. When updating the VESC 6 to the latest MarkVI standard, we managed to get 12 Fets into the same for factor and increase the peak power handling quite a bit.
This design can measure currents up to 210A reliably and push up to 160A peak with a 70A continuous when no additional cooling is applied (sitting on the desk at room temperature).
With these specs it should be the perfect match for hydrofoils, especially if you manage to screw it to some additional thermal mass.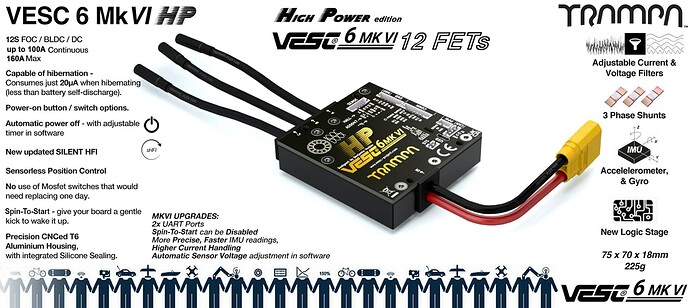 Features:
12 Fets
up to 160A with spikes beyond 200A
up to 100A+ continuous with external cooling
safety power off via ADC
hibernation
2x UART port
STS (spin to start)
fully upgraded to make use of all the upcoming features available in VESC Tool 4 + FW 6
automatic sensor voltage adjustment during detection
programmable automatic power off (hibernation after x minutes)
small form factor
phase filters on voltage and current measurement
silent HFI capable