Who here at efoil has attempted science informed experiments with waterjets also known as hydrojets? I found this during a search in the forum.
Most of the leads I found are well-intentioned hobbyist who hadn't done enough research beforehand. I would like to contribute what I can with experimentation in designs with ducted prop variations, true water-jets, and a new technology I have been watching developed by DeepSpeed (https://www.deepspeed.it/product/?lang=en).
My early ducted impeller was a hubless concept. The prop blades of a rim-driven thruster are mounted on a ring which constitutes the rotor of an electric motor. It is surrounded by the stator which is also ring-shaped and creates the necessary torque. Rotor and stator are water tight and the whole unit operates submerged. My design proved low environmental impact, quiet, safe, but unfortunately too inefficient for use as a primary drive.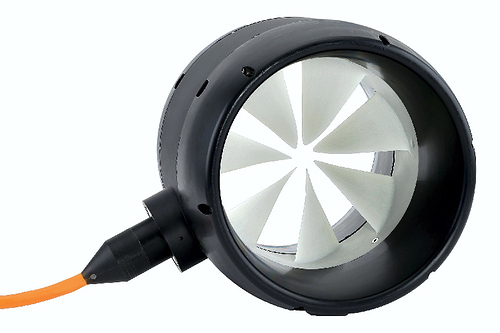 The DeepSpeed drive is a hydrojet, instead of being positioned inside the hull as a typical hydrojet, is configured as an outboard that sits under a boat, with two open ends. The theoretical advantage is that the inlet flow of water becomes dynamic – as the water starts flowing through the open-ended jet a dynamic flow is created. In essence the faster the boat goes… the greater the flow… the faster the boat goes… the greater the flow… and with increasing efficiency.