Hi Builders
After a friend sent me a video from an e-foil rental in Spain, I was convinced: "I can build this myself!"
With loads of free time due to corona, and it being winter so no other outdoor sports, here are my first plans… I don't need to end up with a high performance board, as long as it foils and I can surf it ill already be happy…
Drivetrain
Maytech kit with motor(MTI65162-SF), remote, 300A esc, ubec and pump
Batteries
2X Turnigy High Capacity 20000mAh 6S 12C Lipo Pack w/XT90
Board
Shaping one myself out of (probably XPS) foam and glassing it with fiberglass and epoxy. The mockup is below. It has a volume of about 105L, but that will probably be reduced a little after shaping and making cutouts.
Any suggestions about glassing shedule? which mat weights and how many layers?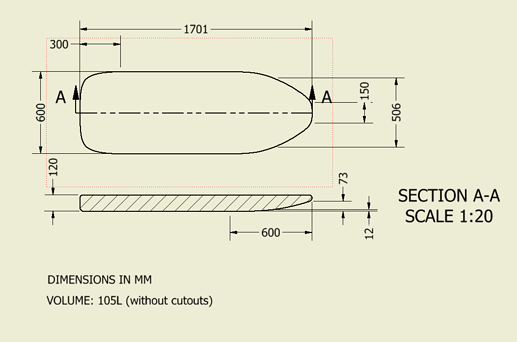 [CONTINUED IN NEXT POST DUE TO LIMITED MEDIA FOR NEW USERS]
So, first thoughts from more experienced people? Any bets whether this can work out?
Greetings from Belgium!