Would you show us the wiring quality ? What KV is it ? Would you post more pictures of the shaft side ? I suspect the stub it is too thin to fix a fairing or a propeller guard.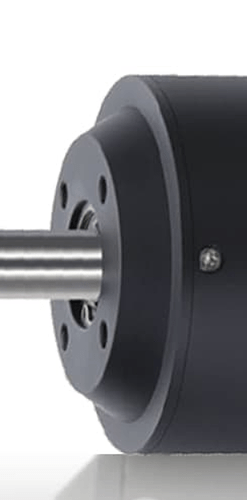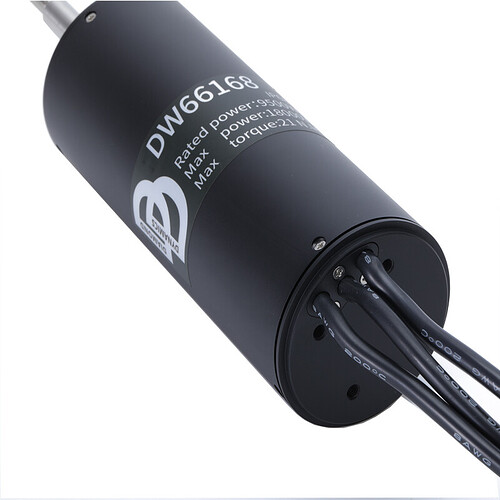 Thank you for your attention! In the use of hydrofoil, we usually recommend 125KV, of course, we can customize any KV that can be achieved.
Can you show us the internal wiring ?
CAUTION !!
We tested the 54135 motor, couldn't get on the plane with 12S, perfect propeller and setup
They said it can take 3500W continuous, in reality it couldn't handle more than approx 1500w (power needed to takeoff with other in runners)
Hundreds of lost $$$ the seller did not offered warranty whatsoever
Hello my friend!
I understand your feelings very much and thank you for telling me such important information here. As for what you said, we don't have any after-sales service. I think there is a misunderstanding here, because our regulations do not allow this to happen, and we haven't received any feedback from you. This may be because our staff didn't provide good feedback. I apologize to you! I would like to ask you to tell me the situation. If we confirm that what you said is true, we are willing to provide you with a 66168 motor as compensation. At the same time, please give me a new evaluation:
Have you provided us with a test video before? It's a test video installed on a hydrofoil.
Please tell me the specifications of the propeller you provided at the time, and what is the KV value of the motor you ordered?
According to your description, you said that 54135 cannot handle power exceeding 1500W. Could you tell me if the motor emits smoke or other performance when it reaches 1500W.
Please send your purchase order number to my email address: czh@diamondynamics.com
Please tell us the above information, and once we confirm your question, we promise to provide you with a new motor free of charge.
I apologize again for giving you a bad experience!
Best regards!
John
Hi John
Why not send out one or two of these motors to efoil users to test.
For example I have maytech 120kv, a lift motor and a geared unit I can compare this to. If this motor compares well to the competition and the price is fair, then I'm sure many DIY efoil user would buy a motor. But without any decent testing or comparisons to what's on the market, you realistically can't expect many sales.
Jezza
Hello, Jezza!
Thank you for your advice, which sounds great!
However, I am still a newcomer in this forum, and I don't know who to invite for the test, or whose test results are the most convincing. Do you have any suggestions on this issue?
Best regards!
John
How soon can you get a motor to users and how soon do you want test results?
I'd be happy to test a unit. I have freefly arc200 which have full logging capabilities, vesc with metr logging and APD speed controllers as well. I can do comparisons to the maytech/flipsky 120kv, lift motor and flying rodeo motors as have them here too. The only thing I will warn you about is that I will be honest about its performance and provide the data to back up my options.
Is this motor a true 125kv, so when I run it I'll actually measure the 125kv? The reason I say this is that when I tested the maytech 120kv, it actually ran closer to 115kv and when I tested an HGLtech 100kv it ran at 89kv.
Hello Jezza!
This is a good idea!
Can you send some of your previous test posts or video links to my email? czh@diamondynamics.com Because I need to demonstrate to my leaders.
Generally, the KV value of the motor will have a tolerance of about 5KV, such as 120KV. The tolerance range of about 5KV is normal. Because these motors are manually wound, it is difficult to achieve 100% consistency.
Hello @DiamondDynamics-1.
I simply do not understand why you are throwing another motor into this market place. You offer no videos or test data or any information that this motor is suited to any purpose.
You talk about max RPM at 8,800, Max Torque @ 21 Nm and Max power at 18 kW. But this is completely useless information for anyone who is trying to identify a use for this motor. We need to see curves so that we can match the RPM and power to an application. WHere are your test graphs?
What propellor was used to produce this data? At 9 kW , you would be looking at a 91/4 x 7 or 8 inch propellor that would not fit to your motor.
If you are trying to sell into this market and want to be credible, you need to supply the appropriate data. The fact that you are not selling a matched propellor for this motor proves that you have no experience in integrating this motor to e-Foil applications.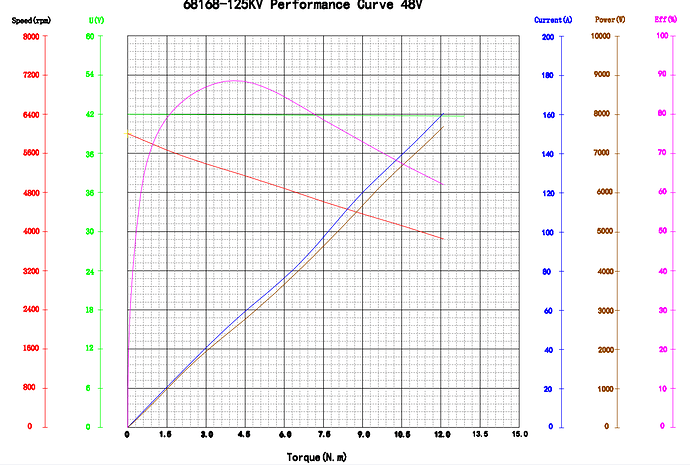 Hello!
Thank you for your guidance!
Please review the graph.
In fact, this motor test data is based on the existing propeller test data, but I want to know if it performs better with other propellers, so I sent it out.
Best regards!
Thank you for the curve.
Unless I am missing something, the curve suggests that as you increase current, torque increase (as expected), power increases (as expected), however RPM decreases (which cannot be the case).
So, at 6000 rpm, you have no power and no torque?
What propellor was used?
Hello!
Thank you for your attention!
I'm sorry! In the information I received, it seems that no curve was tested using a propeller. Our graph was tested using a dynamometer. When the dynamometer was just started, there was no torque because there was no applied force. According to the rotational speed, the resistance was slowly increased to test the torque?
Hello Jezza
Can you send an email to my mailbox? Or please tell me your email address, thank you!
OK, thank you for your response. That makes some kind of weird sense, but, OK.
I still question the graph as, even with no load, at 8000 rpm, there should have been some current, not 0.
thank you! "I confirm that this diagram is correct. As for your question, perhaps there is no resistance applied. The current is very small, so it is not shown."
OK, so the issue here is that we all have to be hydrodynamic propulsion engineers to pick a propellor for this motor. Even then, most propellors are designed for petrol outboards that achieve max propoulsion, max efficiency, max power at completely different RPM than your motor. So who will buy it?
When you compare to motors designed for aircraft, curves are provided based on available propellors and voltage to assist people to design their rigs. Like this;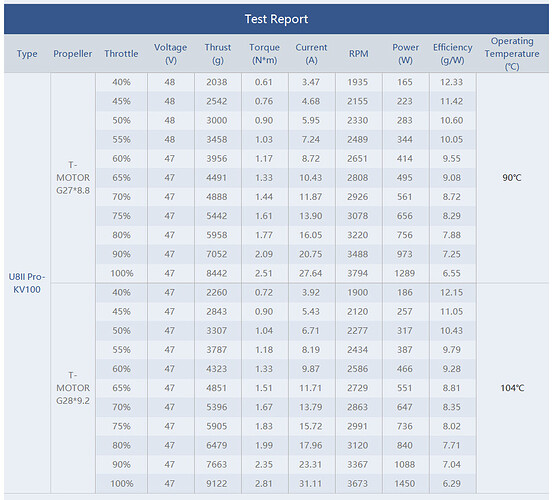 As torque is increased the rpm goes down and that's a normal thing on a dyno curve, sort of backwards when you look at the curve but natural correct physics.
But you have a good question on the start point current at max rpm. I have seen theoretic/calculated motor curves which looks like this. I wonder if this is the case here, especially with the extremely smooth curve that doesn't show any sensor jitter at all and there is no sign of motor saturation at higher current (this would make a clear bend/knee upwards in the torque vs current plot)
If calculated then the motor curve is not necessarily true.