My homebuilt electric hydrofoil. - YouTube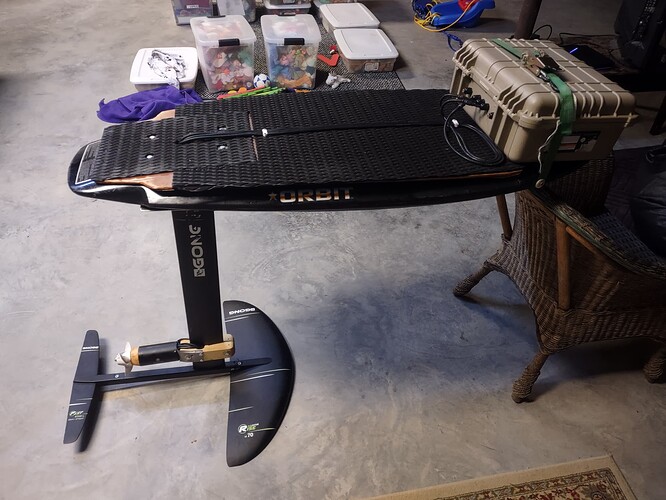 Equipment: Total Cost: ~ $1087
Fresh water (I live in Missouri)
-old kneeboard I had laying around - $0
-Hydrofoil- Gong Allvator Rise M70 (front wing 70cm wide, volume1500cm², rear wing 45cm wide, volume 270cm², Mast - 80cm (select the "kitefoil" for the 80cm mast) $342.49 (shipping included)
-44.4v 12s 2kwh li-ion battery (used ev battery from batteryhookup.com) - $200
-130kv 65121 flipsky brushless motor, 3700w peak, 2000w continuous - $269
-Flipsky FS75100 ESC ( uses open source VESC software) - $130
-Apache 3800 water proof box - $54
-moto z2 force ( VESC display - any old android phone) $0
Vanpro RC car/skateboard controller - $23

xt-90 anti-spark connector - $1 (10 for $10)
-8awg silicon wire to extend motor wires $69 (this was 50' so I have a lot left over)
-motor mount (mast clamp) - pine 2x4 and aluminum flashing I had laying around, I may attempt to 3D print a better solution in the future.
-propeller - 7 1/2 x 7 propeller that was included with the flipsky 65121 motor, it is far too big. I've cut it down to about 110cm or 4.33" - I'm currently only getting about 1500rpm drawing 70 amps from the battery (50v fully charged). This motor has ~5N/M or torque, its bigger brother, the 65161 has ~9N/M or torque from what I've read.
I haven't gotten up on it under its own power yet. I'm still tweaking things. I think I may need a bigger surf board.