Hey,
Lacroix has a super solid experience in electric skateboarding and they are now entering the eFoil.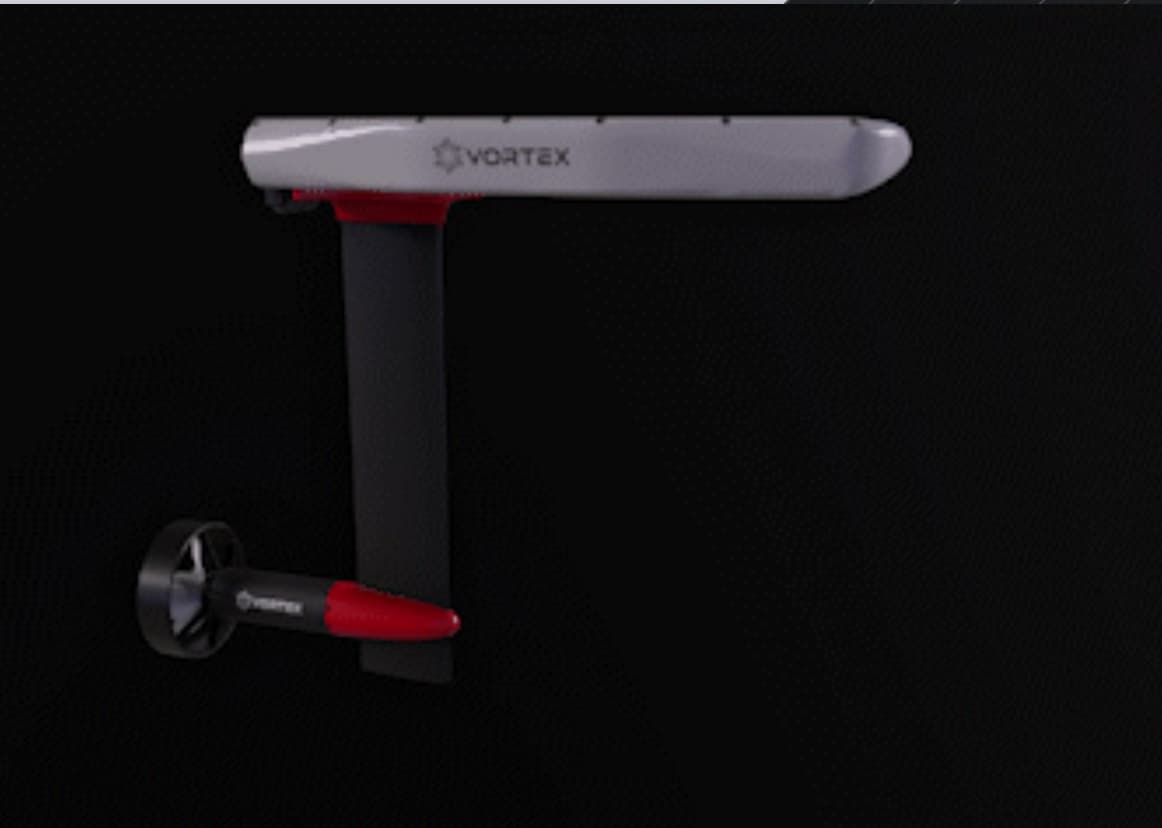 looks like they are missing the front wing
sometimes I think that this type of solution may be the best. battery and VESC below the BOARD. With a Flipsky 65161 120kv even if you have some anchor effect when taking off, it will not matter because with 14S you will always be flying. and can be put on any table in minutes. I don't think it even has active cooling
looks ugly with lots of drag…
Seems like it`s similar to the pwr-foil system;-)
To me it looks more similar to the riffle case build…
Do they fill the motor also with corrosionx or similar?
dunno yet, but I know Alex for several years now and he's a solid builder with a very good respect from the ESK8 community. He's really looking into the details of things and delivering according to expectations.
looking forward to see how he's going to nail it !
I like the fact that they don't try to hide the true specs / parts used.
What's up with companies that come to the DIY sites and then think they can patent the ideas from the past… Lacroix are trying to patent the battery box under the board attaching to normal foil tracks. It's already been done by a few DIY guys and also discussed quite a bit. It really grinds my gears when companies steal concepts and then try claim intellectual rights!
Has anyone purchased a Vortex unit ? I have Slingshot gear - ShredSled and i76 and i99 foils.
I sent a query 2 weeks ago . No reply from LaCroix to see if they are making attachments for Slingshot foils … There is a pre- production price and I would like to support a Canadian company.
Many thanks Jezza to remind what we've tried 3 years ago. Still working on but trying to improve connection with boards and feeling when touching water.
Steph
According to their website:
Pre-order price; 3899USD
The first batch is set to ship in July 2022 and includes the following…
Any news ?
The Vortex™'s enclosure is CNC'd out of a solid block of aerospace-grade aluminum, we use the all mighty DIY-favorite Flipsky 65161 120kv motor, the Flipsky VX3 remote and a huge 1736wh battery pack made of 112 cells of industry-leading Molicel P42A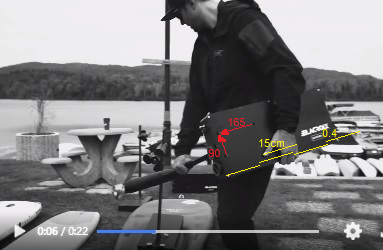 Curious to know what it would cost to CNC such a box with the following requirements:
box dimensions 50x28x9cm, (3.4 x 2.2 units of 15cm-wide hand width)
waterproof mounting setup on any rigid and inflatable board fitted with a dual US rail,
Inflatables: Fanatic sky Air, Gong Hype, …
waterproofed cover with 6 M4 screws only plus the 4 M6 mast plate ones with waterproof inserts
must bear 150kg over a 165x90mm mast plate surface and not crack (jumps could be forbidden)
rechargeable through a waterproof connector
BMS ?
aluminium enclosure = natively fireproof but must not explode if it catches fire (ammunition boxes have a joint that need to be removed if used as battery storage)
[Edit] four 10.5 cm-screws passing through the box could be a good solution to simultaneously:
fix the box to the board bottom,
fix the foil to the box,
ensure the box waterproofness.
It's really not hard to clone this… It's good for easily transportable fun, but still isn't the best looking. I'd probably go this route rather than a rifle case though.
As there is no hole in the box cover inside the 165x90mm pattern, the motor cables necessarily connect on the box stern side through waterproof connectors. What do you think ?
A couple local guys got one and I got to see one in person. Didn't snap a picture of when the foil was all mounted up though!
XT90 is a loopkey. 3 colored connectors are motor phase wires. Top-Left most is a connector for the antenna. Bottom left silver is a schrader valve, supposed to keep it under pressure and make sure it doesn't leak. (I want to say the idea was mine first, but I probably took it from someone else on the forum

) Redpinelabs board #2 - #28 by brycej
Not shown:
Flipsky motor with what looks injection molded prop guard. Prop that is similiar to FR prop but not quite as finished looking.
He had a gofoil fuselage machined that works the AK mast. Seems to work pretty well!
What a nice piece of equipment ! Obviously the way to go to electrify any board fitted with US rails.
Can it adapt to a "classic" 165x90mm screw pattern ?
Is it still possible to get some pictures without the board ? Position of the screws that join top and bottom part… just to get an idea if it can be DiYed. Can it be opened to see the inside or does it void the warranty ?
The aluminium enclosure:
how do you fix it to the board bottom, while still offering 4 holes for a 165x90mm mast plate hole pattern ?
an idea of its weight ?
XT90 inside the 5cm/2" diametre threaded hole: for the charger ?
This thing has one big disadvantage. The front part is not hydrodynamic shape. This thing breaks like a truck when you touch the water.
I have built something similar.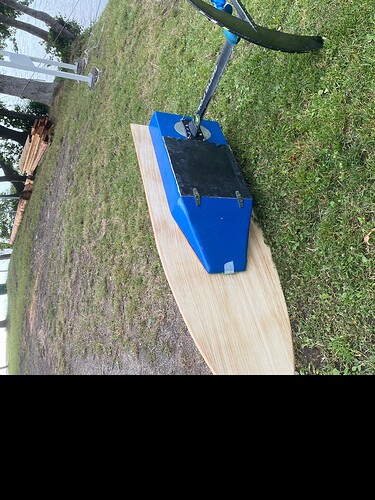 You can see the front shape is much more hydrodynamic, but still if you hit the water it breaks much more then a "normal" board.
The good thing is you can use any board. Mine is just a wooden blank made of 18mm Paulownia. Very light board.