Looks great, what wing is that? Did you build it yourself? Looks small and HA. Let us know how it works once you've tried it.
I really love that shape!
I did just initial testing on my old WildBuild board and can say that is working and it's fly and it's much faster than my previous clone v100. But is harder to control I think that I will need bigger stab. In next few days I will test and let you know.
Thanks! It's from 3d printed molds. I modified @visor360 files. So that I can us it on both boards with shorter and longer mast.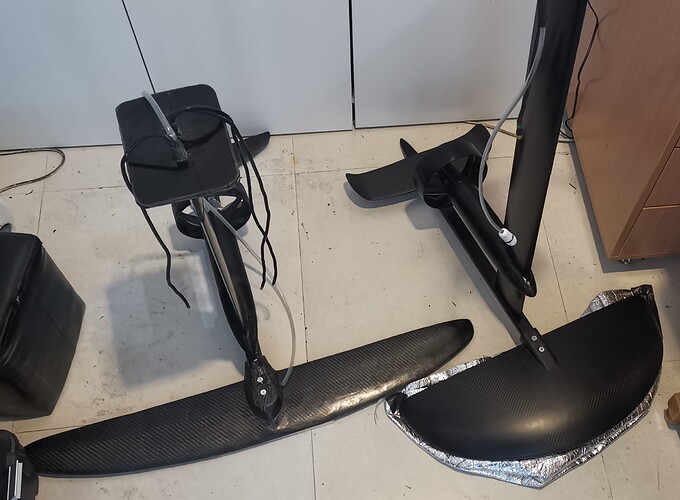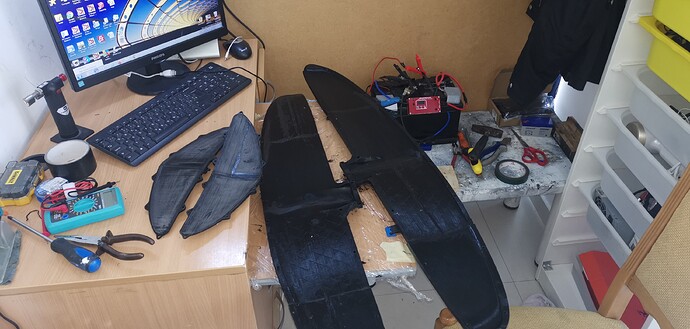 Perfect day with my old flier400 setup and new vx3 remote in ppm mode. More than hour ride without any problems.

Finally got some easier way to transfer efoil…
Riding my v2, fsesc 75200, vx1 remote, FS65161 120kv with choped 5pitch prop.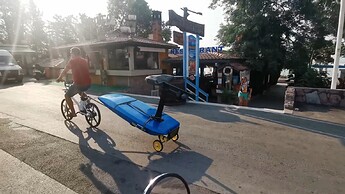 Great, I'll have to steal your idea for carriage

@Mislav, Just don't steal the bike

Today I mounted a flite propeller on FS65161 120kv 10mm shaft, with flier400a. Riding is more faster than with 5inch chopped prop. Now is 11 months after I filled 65161 with wuerth corrosion spray and crc 6-66 in another 65161 as alternative to corrosionX. So far don't have have problems…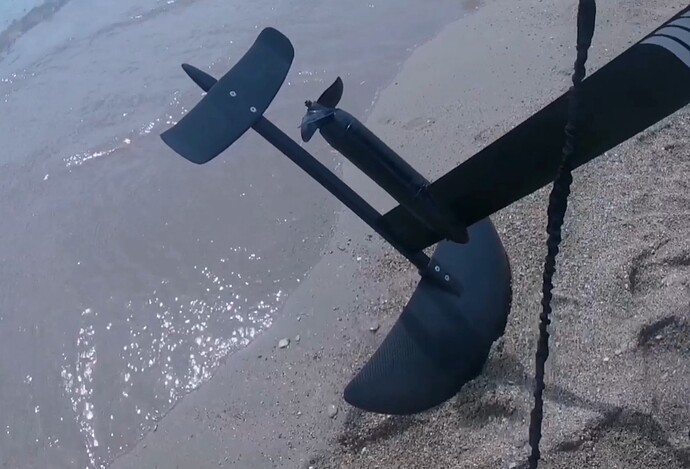 How much CRC 6-66 do you put in the engine?
From the very beginning, when I was thinking of making an efoil, I had a desire to visit the island with an efoil. thanks to this forum it happened. with my V2 efoil and my 90kg vesc 75200 and FS 65161.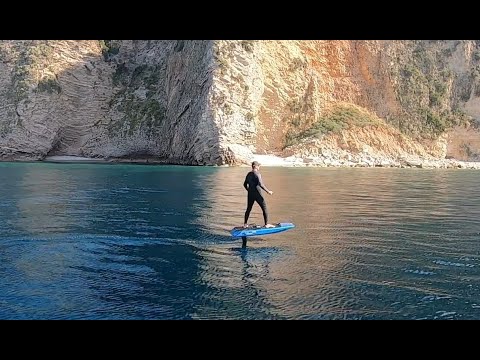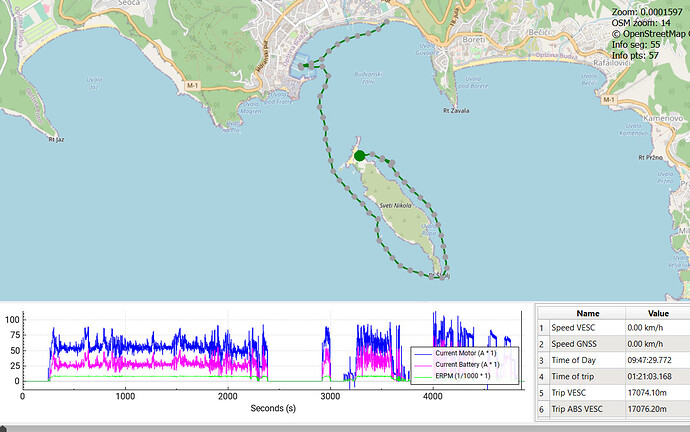 Hi Osavcic, awesome cruise​:+1:

. I need advices as I am planning to start my first build. I would like to go like you with 75200 and FS65161. I know that builder on this forum prefer avoiding plug and play but I would like to keep it simple for my
first build. If I am right you mentioned the ESc is the water-cooled, correct? Is it this one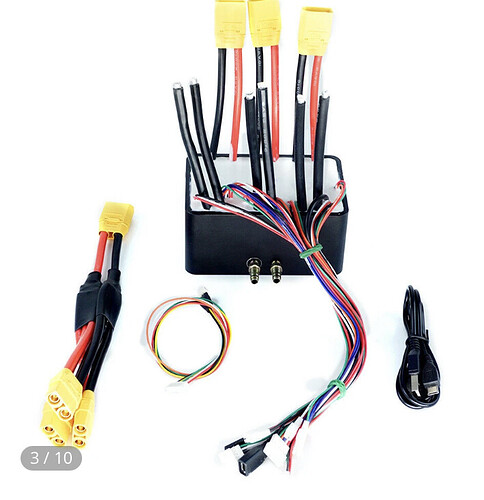 Thanks, yes I have like that one. I had luck with my purchase but many on this forum had 75200version with wrong resistors. I am agree for first build keep it as simple as possible.
Thx for the prompt reply, any threat on your build with more details. The board looks great. Do you have pictures from the inside of the ESC box? Made of plastic or aluminum ? Is the pump placed inside the box? Sorry for the numerous questions but I would like to have a good start with my build …I cross the fingers for the FS ESC
The esc is already in aluminium waterproof box. You don't need pump, it's already discussed on forum. Good luck with your build. Keep it watertight, read more and you will find all answers. Happy foiling in near future.
Thanks for the advices
but trust me I have already read a lot … I deduce from your answer that the pumping is passive with a water inlet at the nose of the mast clamp.
and that the ESC whose body is made of aluminum is placed in a plastic case. Correct? Just asking because this thread is in the builds category and I was impressed by your result

Enjoy foiling with your nice board
Thanks, I am very glad if my work can be liked. A lot of improvements have been made since the first trip to the sea. This is what the part with ESC looks like now. I now have two identical CF-coated housings so I can change ESC and drive on both boards very easily.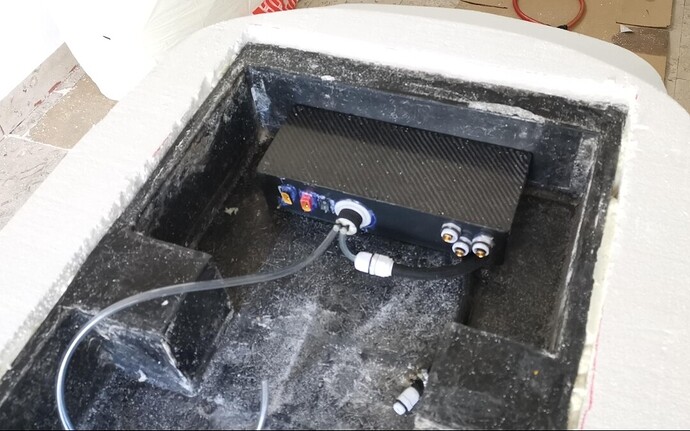 This is a picture from before. The picture shows a 12v pump on enclosure. Now pump is removed…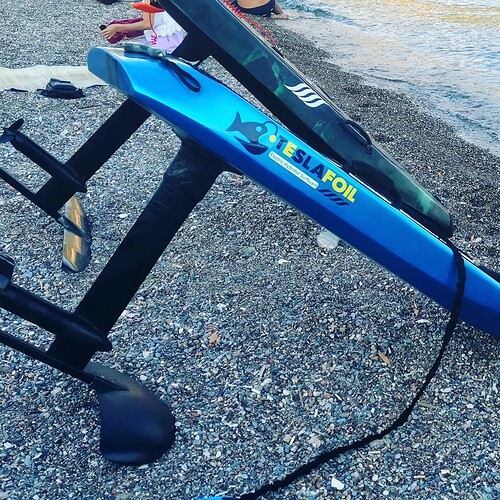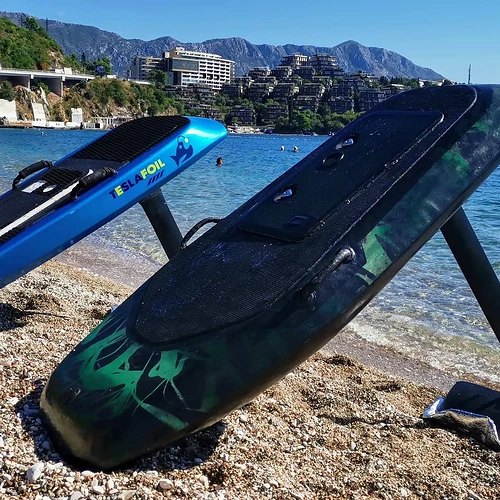 I was to busy to finish boards and with riding them. So I didn't have time to update this post.
A last question if you don't mind: are you still using the potted FS EFS you have put in your board end of 2020? Is it still working? If yes, you were not only lucky with your purchase but you have found the right setup and settings…this is very promising for DIY beginner like me that are better in epoxy than electronics and pay too much money for a ready to use setup.
Greatly appreciated your support