State shutdowns, work from home, and furloughs all due to Corona virus has opened up opportunity to make good progress on this build.
Board shaping:
Started out with a blank from https://greenlightsurfsupply.com/

Printed a twin I beam rails with SS nutserts that get pressed in to top sides of the rails. TPU plugs keep the high density foam out.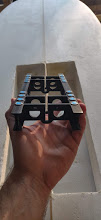 plywood sheet taped on to the bottom to keep foam from expanding too much out the bottom, also holds the I-beam rail in place.
8lb pour foam on top
After sanding down:
Pull TPU plugs, mast plate fits perfect!
Firs layers of glass going on:
Board after routing out battery tray:
Printed out a jig to drill out mast clamp holes after fiberglassing:
Primed for paint
Trying several mast clamp concepts (lots of filament consumed):

Prop development:
Printing props from MaB and others to dial in my prints and pick materials.

Started designing props using B-series prop generator then dropping into solidworks and modifying to make them fit the motor:
Experimenting with 3d pring epoxy coating:
https://www.amazon.com/Smooth-XTC-3D-Performance-Print-Coating/dp/B00PFXK4JY/ref=sr_1_1_sspa?crid=2A92KQ1GKVOX9&dchild=1&keywords=3d+print+epoxy+coating&qid=1586566320&sprefix=3d+print+epo%2Caps%2C210&sr=8-1-spons&psc=1&smid=A1B7M9EQGNCLQA&spLa=ZW5jcnlwdGVkUXVhbGlmaWVyPUEyOUNNNzE0Sk0xRVc1JmVuY3J5cHRlZElkPUEwODU0NzEzMlFMQkhSOVI4VlU1SSZlbmNyeXB0ZWRBZElkPUEwODc0NjcwMzRPQjNJSENPMzU4SyZ3aWRnZXROYW1lPXNwX2F0ZiZhY3Rpb249Y2xpY2tSZWRpcmVjdCZkb05vdExvZ0NsaWNrPXRydWU=
So far, liking the results.
Attempt at a "rice nozzle"
Ran out of filament at 98% complete.
Power system:
Maytec 200
Flipsky high current switch
4 6s 20AH Multistar battereries 2 in series, 2 in parallel for 12s
Test stand evolution:
First attempt was way too shallow.

Second attempt with a larger tank, and a lid. Setup below works better, but still getting a cyclone and aeration that obviously affects the results.