We've known the Whimsifoil brand since 2018 with their inflatable boards. They are based in France.
They are now launching their latest product in a kind of "self crowd-founding mode": the Plume efoil for 3800€ or 3165usd (excl vat export price) close to a DiY price.
You pay a 50% deposit today, you collect your board next spring in 6 months time.
Site homepage: https://www.plumefoil.com/ (French, use your translator)
Pre-order: Précommande eFoil Plume / Plume eFoil (French, use your translator)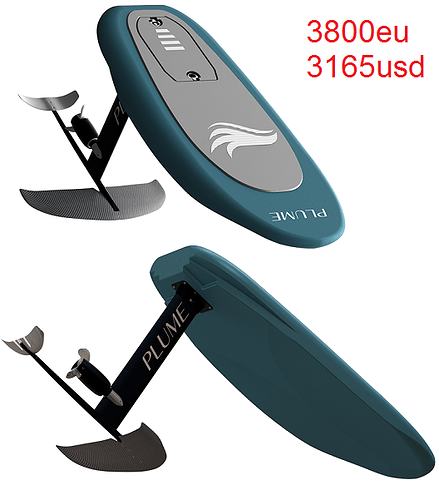 Normal price: 5000€ incl tax (4167€/usd EX VAT outside EU for export)
Launch price: 3800€ incl tax (3165€/usd EX VAT outside EU for export) " -24% for a few weeks only"
Videos to come soon.
Board: 160cm (5'4") 100L
Front Wing surface: 1300cm3 (opt: 1600cm3 +70€)
Battery capacity : 33Wh (opt: 42Wh +450€)
Charger: their 1200W model (to be checked)
POSITIVE POINTS:
European efoil company offering quality products and support
Price: never seen so far at a DiY price
Motor: marinized outrunner
Stock propeller: two-blade folding prop
NEGATIVE points:
Carrying bag and board cover: +349€
50% deposit today - Delivery : spring 2023
Question : their board for DiYers has always been in the 450-600€ range.
Can we buy the Plume board separately ?
This motor looks much better than HISUN and clones in 2018.