In parallel of
Designed for air or water, flying wings have looked the same for almost a century… But could they add anything to efoiling ?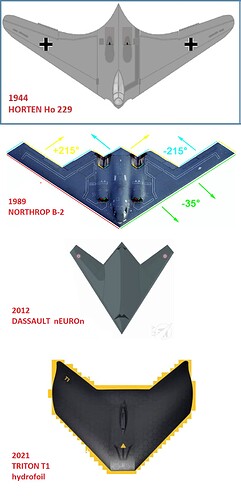 So the question is when will the first flying wing efoil be tested ?
Flying wing hydrofoils do work since the Triton T1 released in Aug 2021: https://www.tritonfoils.com/
Triton Foils releases the first accessible monowing: Triton T1 - Kiteforum.com
Their advantages are: low drag (-25% at comparable surfaces), maneuvrability, can be made in a single mold, easy transport (no fuselage) in car and plane, light : 1.25 kg, … large speed range, safety (no cutting stabilizer, thick wing tips) …
Triton sell their "wing-only" formula 1000usd. It should be possible to build a DiY one with hot-wired foam around a 3D-printed PETG centre core (a solid resin block in the original model) between two layers of CFK.
A similar post was opened by @rowen01960 in April 2020. Triton obviously copied Gurval LEGO 2019 work with his central reflex part… @Toto44, did you push your flying wing prototype forward ?