Hi
This seems to be a very knowledable community. I hope your knowledge can help my project(s) too.
I want to have electric motor on a boat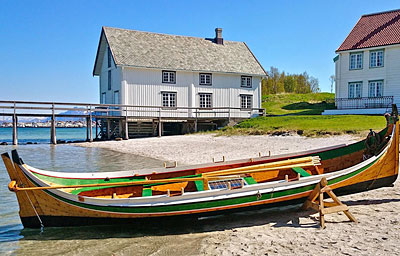 An electric outboard trolling motor would do the job just fine, but as you can see from the picture, there is no place to mount an outboard. So I'm considering to use some of the gear you guys use for efoils. The boat is 18-19 feet long, and only weighs 70 kg when dry. After soaking water for a few weeks + people and luggage, it could reach 250 kg. Hull speed is around 5 knots and is the top speed I'm aiming for. These boats usually get that with a 2 hp fossil fuel outboard (mounted on very annoying iron frame on side of boat). So I'm guessing 1500W motor would be fine?
I would have to mount it on the outside of the boat. Rudder would have to be modded in order to get room for prop + motor. But there are limits to how much I can mod it, so motor would have to be as short as possible. Alternative would be to mount it as an integrated part of the rudder (back of rudder -not below), but I'm not very exited by that idea. Feel free to convince me that's the best solution.
5 knots is of course a lot slower than what you guys are going, so I don't expect to use the same motor as you do. But I'm hoping for input on type of motor or specific motors that would do the job. Also input on everything that goes with them like ESC, cabling, remote controller, and propeller.