So I found this forum earlier this year. Forgot about the time frame. So after extensively combing through other builds I decided to build my own about June 2020. Ordered a VESC 75300, 65161 Motor, and two 6s 22Ah batteries. Also ordered a Prusa Mini but they were backlogged for a couple months. I also ordered a custom board from Noah.
Since I already had Axis foils I was just going to use the Axis mast as the starting point. I was stuck in limbo without a printer for a couple months so had a motor, battery, and vesc sitting around for literally months. Once the printer came in, I designed from the ground up the motor mount. Then worked on the VESC aluminum box. Basically followed flightjunkies aluminum box build. Haven't filled with corrosion X yet because I may choose to move some things around.
At this point everything was ready to go minus the board. So currently waiting until that is finished. So fast forward a bit and I saw Michaels tow boogie in action. I also got in on the motor order from Konstantin.
So now I'm stuck with two motors, a vesc, some batteries, and an idea to pass the time while I wait for my board. So I built a tow boogie using Konstantins motor. Took about 2 days to make. Mainly waiting for the 3D prints. The hardest part really was putting the motor back together after filling it with corrosion X.
So the first day on the water was yesterday but didn't have the power to get up on foil. I was using my prone board with about 40L and a HS1250 wing. I got close a couple times but just lacked power. I took some measurements from my phone tucked in the control box.
So I have the motor current limit set at 120A and am wondering if I should bump this up to 130A? Also checked out duty cycle and it never really got past 80-85%. For the prop Im using is a 3 blade 143mm prop from JvdZ. Will end up trying the 165mm JvdZ 2 blade, the Jezza maytech prop, and the Racemax prop.
Also with prop changes I'll use my 80L sup and HS1550 wing. Just to make it easier to prop up. As of right now my limiting factor is time. So far it's been a fun side project while waiting for my board.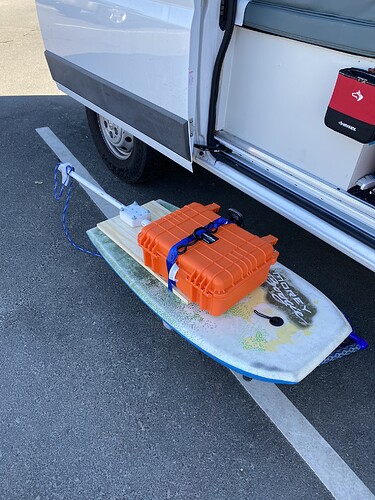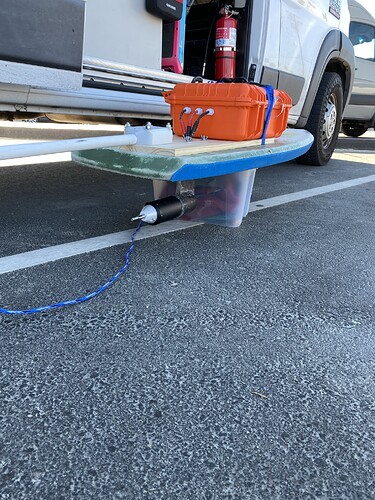 Also in the VESC setup tool is there a way to change timing of the motor? Should I keep it as is if there is an option to adjust it?