Hello fellow e-foil builders. A new build from Norway.
A few years back, I started to build YAHS (Yet Another Homemade Segway). Unfortunately, that project was not very well documented. Couldn't find an common place like this to share and get ideas, but here are a few videos of that.
YAHS Alpha, YAHS Beta, YAHS V1.0
Last year I saw a clip on YouTube of an electric hydrofoil and fell in love, so the dream of YAHEF (Yet Another Homemade Electric Foil) was born. Early this year I invested in a few basic things, like a 3D-printer and started to play with Fusion 360. During the year, more and more parts has been collected and now, I'm ready to start building and aiming to have my maiden voyage in April, May next year.
Drive Train
TP4070 motor, Reisenauer Chief 5:1 gearbox.
Filpsky FS65161
I will go for the Flipsky in my first build.
Propeller
Tbd
Battery
Using my old YAHS batteries for testing. Buying new ones later on.
Board
Chinese inflatable aliexpress.com. The only one they had was a sample, 180 x 72cm with 71x30cm hole. Ideally a smaller one is prefered but this one will at least get me started.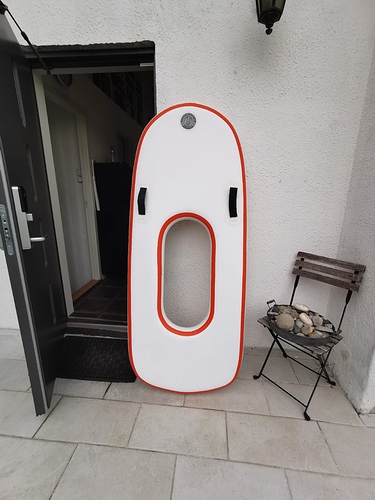 Board Box
Well, haven't seen any stock box. DIY is the way to go.
Foil and mast
Chinese JNJ on AliExpress. aliexpress.com
Board Electronics
Flipsky VESC 200A 60V watercooled
Teensy 3.5
GPS
Bluetooth master
MPU 9050 gyro/accelerometer
Water pump
Water pump motor controller
Flow meter
Various Dallas temperature sensors
Reed switch
150A Automatic Fuse
200A Solid State Relay
60V - 12V 15A step down for air- and water pump
12V car output for inflating the board with an electric pump
Remote Control
I've barely started with the remote control, based on @Hiorth design. The lid is changed to house a 320x240, 2.2 inch display and a navigation button. The goal is to have all telemetry, speed, heading, distance, remaining distance, various alarms, temperature on different parts and so on, available on the display in real time. More info will come.
Main electronic parts:
Teensy 3.2 maybe 4.0
Flip Flop latch switch
320x240, 2.2 inch display
Navigation switch (tbd, eather stock or DIY)
Bluetooth slave
MPU 9050 gyro/accelerometer
Buzzer
Vibration motor
Hall Effect sensor
Reed Switch
Wireless charging.